Curacao scuba diving, sailing, ocean deep water fishing, windsurfing, island tours, excursions and space flights!
I am no longer living on Curacao. This site is for information purpose only. The information may be outdated. For up-to-date information and island tours, please contact Zorina +79826758914.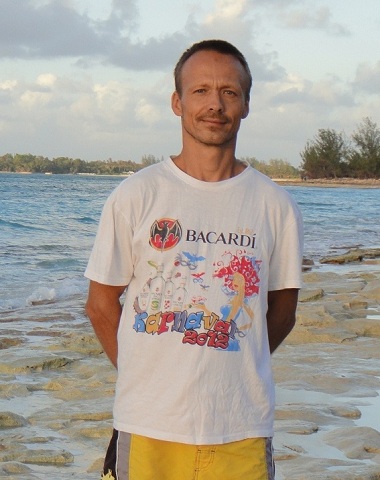 Introduction
About me
My name is Arkadi. For people vaguely familiar with slavic languages, it may sound awkward and difficult to remember. I give you a hint - look at my 2012 Curacao carnival t-shirt and think of Bacardi. You are in the Caribbean anyway.
I'm Russian-Canadian. I live on Curacao on my little sailboat Beruta anchored in Spanish Waters. To read about my Caribbean, transatlantic and Mediterranian voyages, see my yacht logbook.
You may hire me as your scuba diving private instructor, underwater guide or just a buddy.
I can also be your skipper, the island guide and just a friend. I enjoy showing Curacao visitors and tourist the island, the nature surrounding its capital Willemstad and remote areas such as West Punt with the marvelous Jaanchies restaurant. I'd especially like you to discover Curacao's underwater part because there is the real beauty, which you might not have seen in your life.
If you dare to sail the rough seas poundering the coast of Curacao, we can! The southern coast is usually less hostile than its northern side. The attractive place to head to is Klein Curacao, which is 3-4 hours away from Spanish Waters. Diving there is also unforgetable. We may fish on our way as well. Afternoon one-to-three hours before a sunset there is a good chance to catch dorada.
Among the other places, we can go to Hato Caves near the airport, Seaquarium, forts, numerous beaches along the south coast of the island including Playa Santa Cruz with the famous character Captain Good Life, who operates a water-taxi, Christoffel Park for hiking the highest peak of Curacao (375 m) and Shete Boca National Park with remarkable formations in the coral coast line.
As for the nightlife, there are happy hours and live music on various beaches and in the night clubs depending on the day of the week. Some single fellows may wish to taste the Caribbean version of the Red Lights Street in Amsterdam, called Campo Alegre.